October 1st, 2022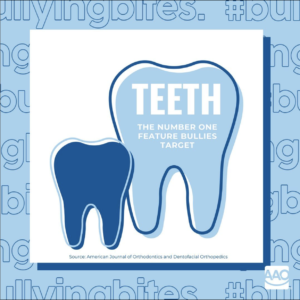 Every October, the American Association of Orthodontists (AAO) and 18,000+ orthodontists around the country recognize and celebrate National Orthodontic Health Month, a month dedicated to promoting awareness about the benefits of orthodontic treatment and the importance of having healthy, well-aligned teeth and a healthy bite. More recently, the AAO has shifted its focus during the month of October towards another important cause – National Bullying Prevention Month. The AAO began the #bullyingbites campaign several years ago to raise awareness about the impact of bullying, and to encourage its members to come together and take a stand against bullying.
One out of five adolescents in America between the ages of 12 and 18 experience bullying on a yearly basis – and teeth are the #1 feature bullies target – according to a study published in the American Journal of Orthodontics and Dentofacial Orthopedics. Children and adolescents are not the only ones affected by bullying, though. Seven out of ten adults report feeling self-conscious about their teeth and smile. Furthermore, a study conducted by OnePoll concluded that 57% of Americans cover their mouths when they laugh because they feel insecure about their teeth, and half of adults smile with their mouth closed to avoid showing their teeth. Yet again, in the adult population, teeth were the #1 insecurity.
More and more adults are seeking orthodontic treatment to address these insecurities, and parents oftentimes seek orthodontic treatment for their children at an early age (typically between the ages of eight and ten, once the front permanent teeth have come in) in hopes of reducing some of the negative comments made by peers about their child's teeth. Some parents report that their children will say, "I don't like my front teeth", "I don't like the gap between my teeth", or "my friends tease me about my teeth". While there are several functional reasons to provide treatment at an early age (e.g. having a crossbite in the front or crossbite in the back), having social or aesthetic concerns about teeth is a reason to provide treatment at any age.
Nowadays, braces can even be the "cool" thing to have – and for some, simply getting them shows their friends that they are working on improving their teeth and smile, which can be enough to reduce some of the negative comments made by peers. Children and adolescents who anticipate orthodontic treatment expect an improvement in their social and psychologic well-being. Adults expect the same improvement, and for adults (as well as teens), many prefer aesthetic treatment options like clear aligners or clear braces, so they can improve the alignment of their teeth without the metal that was a staple of orthodontic treatment years ago.
It is no secret that orthodontic treatment can have a significant positive impact on an individual's confidence, self-esteem, and quality of life. Thankfully, there are treatment options to fit most individual's preferences, needs, and lifestyle. There are enough things we have to deal with as adults and parents, and bullying shouldn't be one of them. At Doswell Orthodontics, we pledge to take a stand against bullying and help create healthy, beautiful, confident smiles, so children, teens, and adults never feel self-conscious about their teeth. I think we can all agree #bullyingbites.